Unrivalled
pain relief
take contol of your pain today, from only $99
TWO THERAPIES. ONE DEVICE. ZERO PILLS.
In pain? combined Heat and Percussion Massage therapy from the Nano will help. Portable yet powerful, take it everywhere you go.
clinically proven
heat therapy
Our heat plate relieves headaches, migraines, back pain & menstrual cramps as recommended by health professionals. Multiple levels of heat means the Nano is suitable for all types of skin sensitivity.
recommended by physios
percussion therapy
Relief from ailments, aches, and pains with a scientifically-proven muscle treatment. The Nano provides three calibrated modes: relax; recharge, and refresh. Includes four specially selected flowhead™ attachments.
Take the Nano anywhere
Light enough to fit in your bag. TSA-approved with its own carry sleeve.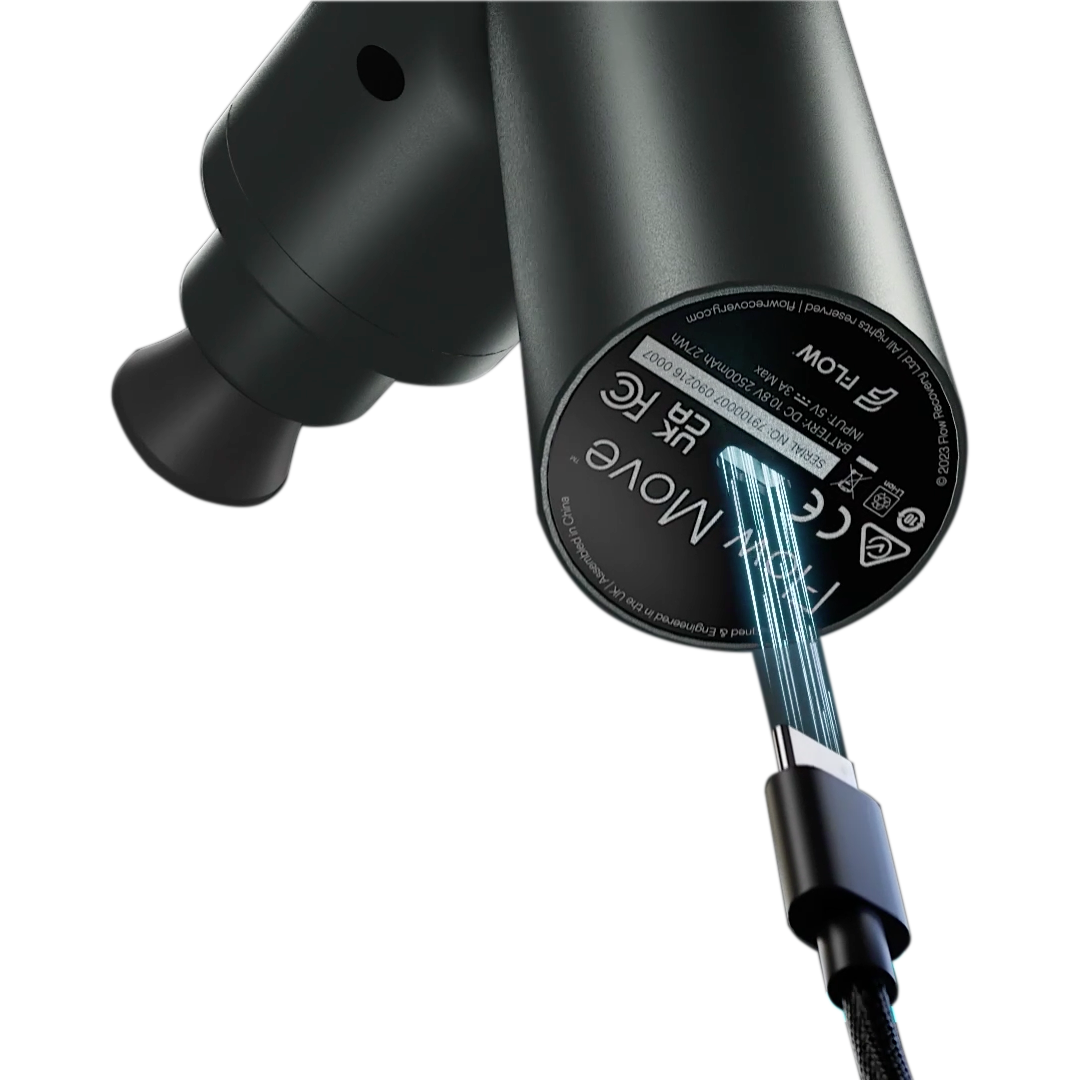 Staggering battery life
Included USB-C cable provides up to two weeks of use with a single fast charge.
Discreet pain relief
Our ultra-low-noise motor means you won't disturb anyone when you use the Nano. It's perfect for the office or on-the-go.
"Don't wait for expensive physios; Nano does everything from the comfort of your home"
"It's the perfect desk companion."
"Say goodbye to 9-5 aches & pains."
simple & easy
how to use the Flow Nano, easy as 1...2...3...
Start
Long press the power button for massage. Double click for heat. Ensure the device is fully charged.
Select
When active, choose which of the three modes (relax, refresh or recharge) you want by cycling through with the button.
Apply
Use the Nano on where the pain is, being careful not to apply around sensitive areas.
fork
Perfect for the neck and back, the prongs of the fork Flowhead™ make it easy to massage on either side of the spine, lower neck and Achille's tendon. It may also be used for a deeper massage of major muscle groups.
bullet
The small diameter of the Bullet head gives focused muscle treatment. Perfect for working through tough knots.
ball
Soft and forgiving, the Ball head is perfect for gently massaging soft tissues and more sensitive areas.
hammer
The perfect all-rounder: the Hammer head lets you smoothly massage the major muscle groups, making it the go-to for all-over-body treatment.
everything included with your nano
what's in the box?
Flow Nano
USB to USB-C Charger
Soft Carry Bag
4 Flowheads™
User Guide
Instant Soothing Heat
Our three therapeutic heat settings provide instant relief for migraines, period pains and sore joints.
Long Lasting Battery
With 3 hours battery life, Nano is ready to go when you need & it won't let you down.
Travel Friendly
Ultra-portable and so quiet you can barely hear it - it's the perfect device for when you're on the move.
Just what I needed - I love the heated element, perfect for period cramps.

Kirsty Richards
Absolutely love this - why did I not get this sooner!

Sara Wilson
I get pretty sore joints from being stationary most of the day, working in IT. So this is a godsend - well worth it!

Olivia Phelps
I take it everywhere; I find it helps immensely my period pain.

Annabelle Hardy
After hours stuck in front of a screen, the heat on my neck and temples is hugely relieving.

Tim Edwards
I travel a lot for work, and so this tiny device is amazing for me to slip into my hand luggage!

Staci Hancock
Headaches | Migraines
Find relief from Headaches & Migraines with the Nano's three levels of heat therapy.
Gently glide the heated plate over your temples and forehead to ease your pain.
Back Pain
Both heat and massage elements can be used on the upper and lower back.
Reducing tension, release knots and relieving everyday aches you may face from manual labour, office work, sport or a specific health diagnosis.
Cold | Flu | Covid
Nano's heat and massage functions are perfect for 'taking care' through the symptoms associated with cold and flu.
Such as general aches and pains, chills and congestion, while conveniently water resistant for easy sanitising.
Rheumatic | Joint Pain
Combining heat at the joints and percussion massage at the surrounding muscles.
Increases blood flow at the affected areas, allowing them to become more relaxed & flexible.
Period Pain
Heat therapy helps relax cramping muscles as well as blocking pain signals to the brain.
All without the hassle of refilling hot water bottles or single use heating pads. The Nano heating element can be used to relieve cramps in the lower back, abdomen and stomach.
Muscle Soreness
Soothe aching muscles and prevent Delayed Onset Muscle Soreness (DOMS) following intense training sessions. 
With Nano's compact and convenient massage function.
Chronic Pain | Fibromyalgia
While fibromyalgia and the associated pain has no direct cure.
Symptoms like whole body pain, stiffness and headaches can be eased and alleviated with the Nano Device.
Strains | RSI | CTS
Whether caused by sport or work activities, gentle local application of heat can ease pain from Repetitive Strain Injuries (RSI).
Heat & massage promoting blood flow and muscle relaxation makes the Nano ideal for Carpal Tunnel Syndrome (CTS) or use prior to physical exercise.
Mental Health
By making the Nano part of your self-care toolkit.
The gentle heat and relaxing massage can boost your wellbeing and lift your mood.